As a Mile High Denver ARMA Silver Business Partner, Buddha Logic recently participated in the organization's Spring Seminar. The event included excellent sessions on a wide range of records management topics, from foundations of information governance (IG) to blockchain to personnel management and motivation.
We're a frequent presenter at ARMA monthly events, but in this case we focused on connecting with people at our booth in the exhibit hall. Buddha Logic President and CTO Charles Weidman, Project Manager Donna Harrison and I enjoyed talking with the steady stream of records management professionals who stopped by. The conversations covered a wide range of topics, including:
Business process management

Cognitive capture

Process orchestration

Intelligent OCR (optical character recognition)

Content services

Robotic process automation (RPA)

And many more
Some of our booth visitors understood what a business process automation company like Buddha Logic does. What surprised us a bit was that a significant percentage of these very skilled and experienced business professionals weren't familiar with what a powerful impact automation can have.
What is content services? What is RPA?
Many of the people we talked with asked questions like, "What is content services?" and "What is RPA?" As we provided an overview of these concepts, it was very gratifying to see their new awareness very quickly turn to eagerness to learn more.
And it wasn't surprising, especially when we shared that even implementing just one of our Buddha Botz software "robots" can dramatically reduce the time to complete manual, repetitive, data-related tasks (thereby reducing the associated labor expense) and can greatly improve accuracy without any increase in overhead costs. In today's competitive, data-focused business environment, any efficiency increase is welcomed, especially when it can be obtained so affordably.
How Personal Connections Help Us See How RPA and Content Services are Perceived
In our work with clients and potential clients in the Denver area and beyond, we're focused on creating customized content services and RPA solutions that address their specific needs. And every day we see how automation can help companies save time and money, so it's easy to assume that every organization must know that these types of solutions are available.
Fortunately, an event like the ARMA Spring Seminar and our interaction with attendees quickly reminds us that many data management professionals don't yet understand what a significant benefit business process automation in its many forms can be to their operations. These personal connections are one of the reasons we're active in the automation "ecosystem" through industry events, business partnerships and strategic alliances.  
Many thanks to the ARMA team for hosting such a fun, interesting and informative gathering!
If you count yourself among those who are just beginning to see the enormous potential of content services, RPA and related automation initiatives, and you wonder how your organization could capitalize on them, we should talk! We're happy to have a complimentary 60-minute call to discuss your business challenges and ways to address them. To schedule time with one of our RPA experts, call 303-807-6528 or visit our contact page.
About the Author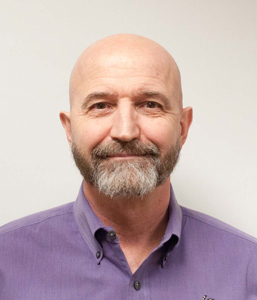 Charles Weidman is the President and CTO of Buddha Logic. Charlie has over two decades of experience in the design, development and implementation of content services and business process management solutions. He is also an expert in robotic process automation. Charlie founded Buddha Logic with the idea that well-architected digital document capture and management processes are both beautifully simple and powerfully logical. Find and connect with Charlie on LinkedIn.