At Buddha Logic, we understand that the combined skill and experience of our incredible team ranks as our biggest strength. To give you a sense of the technical and business expertise we bring to bear on your Enterprise Content Management challenges, we periodically introduce you to one of our staff members.
Charles Weidman, Founder and President
Buddha Logic founder and president Charles Weidman is "Charlie" to his friends. Spend just a few minutes talking with this warm, friendly, easy-going guy and you'll be included in that large circle. A skilled and accomplished Enterprise Content Management (ECM) system architect and successful businessman, he is both highly respected and genuinely liked by his clients, his business partners and his team.
And that team is a reflection of his own character. "I founded Buddha Logic to provide clients with business process automation solutions that make their lives easier. But that can be challenging work, so I knew that I'd only want to do it with a team that is a joy to work with," he says. "I only hire people who are excited about what they do, who take pride in the results they produce, and who are kind, likeable and trustworthy. It's a strategy that has produced outstanding ECM solutions for our clients and a really positive work environment for us."
Charlie also places great emphasis on collaboration. "My goal as a participant in this crazy human collective is to share information and provide tools that make the daily grind of a job easier. If I can use what I've learned in two decades in this industry to inform and educate others, I feel like I've succeeded."
On the Personal Side
When he's not crafting business strategies for our clients in a meeting room, he loves watching team strategies unfold on a basketball court. Still active in the sport himself, he also has two children who played in high school, and he served as a youth basketball board member for six years and still supports the organization's work through donations.
An artistic jack-of-all-trades, Charlie welds and sculpts, sketches in charcoal and paints in oil. "The biggest challenge is finding the time," he says. "My next artistic adventure will be glassblowing."
Not surprisingly for a man whose work revolves around technology, he is a big science fiction fan, with Isaac Asimov and Frederik Pohl among his favorite authors. He also loves B movies, including "classics" like Sharknado, Mansquito and Zombeavers. "They offer many gems of wisdom that get lost in the big budget films," he says… as his team members grin and roll their eyes.
Buddha Logic is a close-knit group comprised of Enterprise Content Management (ECM) experts skilled in design, development, implementation and support. Charlie and the entire team of professionals here at Buddha Logic take a personal interest in every project we tackle and every client we work with. Learn more about Charlie and connect with him by visiting his profile on LinkedIn.
I also invite you to follow Buddha Logic's LinkedIn Company page and our Twitter account.
About the Author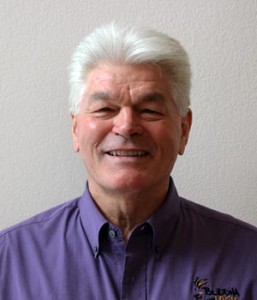 Larry Matthews, Executive Vice President at Buddha Logic, has more than 20 years of executive management experience and is responsible for the company's operations and customer facing functions, including business development, sales enablement, professional services, finance and corporate administration. His work with other successful technology companies has honed his skill for improving operational performance while maintaining a positive bottom-line result at Buddha Logic. Find and connect with Larry on LinkedIn.