Enterprise Content Management expert engages leading graphic design firm to fine-tune its brand and provide ongoing visual communication guidance
Boulder, CO — June 4, 2016 — Buddha Logic, a leading provider of Enterprise Content Management (ECM) and business process management services and solutions, has engaged Imagination Technology Corporation (Imagination Tech) to update its brand and provide continuing assistance with its visual standards. Founded in 1985, Imagination Tech specializes in brand development and works with companies in a wide range of industries.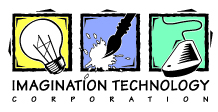 "Buddha Logic is a leader in its space, and we've developed a brand that reflects that," said Robin Meetz, Imagination Tech's founder and creative director. "From our contribution to the redesign of the Buddha Logic website earlier this year to the branding on new marketing materials and company apparel, everything we do is focused on ensuring that they have a very distinct and memorable visual presence."
Buddha Logic provides content capture automation and migration, business process management, accounts payable automation, and enterprise resource planning (ERP) solutions to companies in a number of markets including government, mortgage, transportation, corporate, medical and insurance.  
"Robin's expert guidance on the 'visual language' we use to communicate with our clients and prospective clients has been indispensable in helping us expand our business," said Larry Matthews, Buddha Logic executive vice president. "I am frequently approached at the events we attend by people in our industry who are familiar with our offerings but are reminded of them when they see our branding. We have Robin and Imagination Tech to thank for that."
About Imagination Technology Corporation (www.imaginationtechnology.com)
Imagination Technology Corporation founded in 1985, offers a full spectrum of graphic design and marketing services ranging from the simplest jobs to the very sophisticated. Our commitment is to help you implement your goals and develop marketing that will generate sales, while adhering to your deadlines and budget. Enthusiastically dedicated to design and creativity, our mission is to help you grow your business through good design and professional presentation.
About Buddha Logic (www.buddhalogic.com)
Founded in 2003 and located in Boulder, in the heart of Colorado's technology community, our team is a close-knit group of Enterprise Content Management (ECM) experts skilled and certified in design, development, implementation and support. We work with leading solution providers and serve clients throughout the U.S. and Canada in a wide range of markets, including government, transportation, corporate, banking, insurance, medical and mortgage. Buddha Logic has a long history of success in providing clients with automated document management, optimized business processes, business process mapping, AP automation and workflow management.