Charles Weidman, Buddha Logic founder and president, outlines a new approach to Enterprise Content Management in the video now available online
Boulder, CO — June 2, 2016 — Buddha Logic, a leading provider of Enterprise Content Management (ECM) and business process management services and solutions, has made available on its YouTube channel a video recording of its Mile High Denver ARMA Spring Seminar presentation. Charles Weidman, Buddha Logic founder and president, described his ECtM (Examine, Confirm then Manage) approach to content management.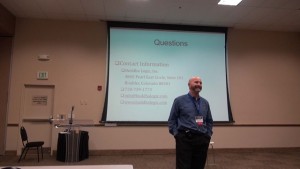 "Charlie has worked in this industry for more than two decades, and he has both tremendous expertise and highly refined instincts for how to execute an ECM implementation most effectively," said Larry Matthews, Buddha Logic executive vice president. "His willingness to openly share the best practices he's fine-tuned over 20 years is a testament to his role as a leader and a resource to others in our industry."
The Mile High Denver ARMA Spring Seminar is an annual gathering of Records and Information Management (RIM) professionals from around Colorado that seeks to advance the practice and profession of records management.
"The attendees I shared my thoughts with at the ARMA Spring Seminar event are some of the brightest, most dedicated records management pros in the business," said Weidman. "It was an honor to be on the agenda."
The recording of the video may be viewed at: http://buddhalogic.com/blog/ecm-consultants-buddha-logic-present-at-arma-spring-seminar
Founded in 2003 and located in Boulder, in the heart of Colorado's technology community, our team is a close-knit group of Enterprise Content Management (ECM) experts skilled and certified in design, development, implementation and support. We work with leading solution providers and serve clients throughout the U.S. and Canada in a wide range of markets, including government, transportation, corporate, banking, insurance, medical and mortgage. Buddha Logic has a long history of success in providing clients with automated document management, optimized business processes, business process mapping, AP automation and workflow management.