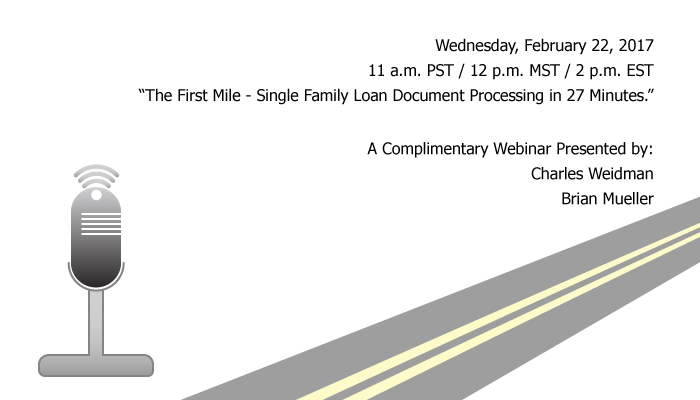 On Wednesday, February 22, 2017, at 2 p.m. Eastern, Charles Weidman, Buddha Logic founder and president, will be joined by Brian Mueller, Colorado Housing and Finance Authority manager, integrated records management, for a live webinar titled "The First Mile — Single Family Loan Document Processing in 37 Minutes." (Register here.)
As the event approaches, we've received many questions about this successful business process management project from people interested in attending the webinar. Here are Charlie's answers to just a few of them.
Q: How did Buddha Logic and CHFA connect?
A: There are a limited number of companies and individuals that have experience in the kinds of business process automation that Buddha Logic focuses on. And seven years ago when CHFA was looking for help in automating their loan document processing, I was one of the few people in the Denver area that had an in-depth understanding of the Kofax product they wanted to use. The specific connection was that the mother of someone at CHFA worked at a company where I'd provided consulting services previously.
Q: What were the initial goals of the CHFA project?
A: The initial focus of the project was to better identify and classify incoming loan documents so a "robot" in CHFA's system could deliver them to the appropriate person for processing. We knew that in doing so, we could shorten the time required to process a loan by a significant amount. We also wanted to make it easier for clients to submit documents electronically, thereby saving them a great deal of money on printing and shipping costs. If you've ever applied for a loan, you know how much paperwork can be involved!
Q: Have those goals changed since you began work with CHFA?
A: No, I wouldn't say the goals have changed. But with each new improvement we have made to the process over the years, we've gotten more excited about the project's potential to streamline processing. Ultimately we've taken processing time for the critical "first mile" from days to hours to minutes.
Q: How does CHFA compare to other similar agencies in terms of processing efficiency?
A: I don't have statistics for you, but I think anyone familiar with their operations will tell you CHFA is probably in the Top 5 in the nation as far as having streamlined processes. I can tell you that despite continually growing loan document volumes, they haven't had to hire additional staff in the seven years we've worked with them, as their automation is helping them do "more with less," relatively speaking.
Q: Were any new products or innovative techniques used in the CHFA project?
A: Yes, they have been and continue to be. One of the things we stress to our team at Buddha Logic is the importance of staying on top of changes in our constantly evolving industry. Whether it's receiving training or getting new certifications, we subscribe to a "lifelong learning" approach to the business process management systems we use to architect our solutions.
Q: What's next for CHFA?
A: With their loan processing solution now having won an award, people throughout the organization are better understanding the benefits of process automation. Consequently, I think there is the potential for many new projects there. Our work to date has been in single family housing loans, but CHFA is also involved in areas like multi-family and commercial real estate.
About Charles Weidman
Charles Weidman is the Founder and President of Buddha Logic. Charlie has over two decades of experience in the design, development and implementation of enterprise content management, business process management and enterprise resource planning solutions. He founded Buddha Logic with the idea that well-architected digital document capture and management processes are both beautifully simple and powerfully logical. Find and connect with Charlie on LinkedIn.